The Corporate Manslaughter and Corporate Homicide Act of 2007 came in with a blaze of glory heralding a new start and greater accountability for individuals who through gross negligence cause the death of a third party or by unlawful conduct or act, involving danger or harm, causes the death of a third party.
The Act which came into force in April 2008 has taken a long time to bite but has finally grabbed our attention with the latest fine of £480,000 plus £84,000 costs.
The first case resulted from the death of a 27 year old geologist who was trapped and eventually buried in a 3.5 metre trench.  The Company Cotswold Geotechnical holdings had failed to take all reasonably practical steps to protect him.  The Company pleaded guilty in February 2011 and were fined £385,000.  The second case brought was against a Northern Ireland pig farming company JMW Farms whose employee died after suffering crush injuries having fallen into the Company's meal mixing plant.  They were fined £187,000 and costs of £13,000.
The latest case relates to the death of Steven Berry who fell 45 feet to his death through a roof panel on 28th May 2008.  Lion Steel Ltd were sentenced on 20th July 2012 with a fine of £480,000 to be paid in four instalments ending in September 2015.   Judge Gilbart QC in judgment said that. He would regard it as a most regrettable consequence if the fine were to imperil the employment of former colleagues of the deceased".
The current sentencing guidelines under the Act refers to a fine of less than £500,000 seldom being appropriate after a trial and it may be measured in millions.   In the above case the Company accepted liability and the Judge accepted its previous good safety record.
Under the Act an organisation is guilty of corporate manslaughter if the way it manages its affairs and activities caused a death and amounts to a gross breach of the duty of care owned to that person.  In considering the offence a substantial part of the breach must be due to the way activities have been organised by Senior Management.  Personal charges may be brought against the Director and/or other senior management.
So how does this affect you?
If you have a service and repair outlet it will be your responsibility to ensure that all technicians carrying out road tests, have a full current driving licence, are competent to drive the vehicle they have entrusted to them, ie don't let an inexperienced young technician drive a powerful 'top of the range' vehicle.
If you have salesmen involved in test drives the same applies but additionally you must ensure that they understand how to ensure their safety when allowing a member of the public to take the wheel.
If you have a sales force on the road, in addition to the above you must ensure that their targets and work load can be achieved without excessive speed and/or without subjecting them to unacceptable stress levels.  If they were to be involved in a fatal accident and it was proved that the management had exerted excessive pressure which was a contributory factor in the accident then the management may be charged with Corporate Manslaughter.
For further advice and guidance on this issue contact Lawgistics on 01480 455500.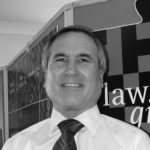 Dennis Chapman
In remembrance of Dennis Chapman 1951 -2015