With the recent announcement that PSA and Vauxhall will terminate all contracts with their dealer network, we thought we would bring you a brief history of Vauxhall motors.
Unlikely as it may seem, Vauxhall Motors can claim to be the only motor manufacturers to be named in the Diaries of Samuel Pepys!
The origins of the name Vauxhall can be traced back to the time of King John, whose brutal military leader Sir Falkes de Breaute married Margaret de Redvers in 1215. Her family owned land including Lambeth forming part of their estate. The manor house was at first renamed Falkes Hall, later corrupted to Fox Hall. It was surrounded by ornamental gardens which in time became the Vauxhall Pleasure gardens which are mentioned no less than 24 times by Pepys in his diaries – "Thence by water to Fox Hall". de Breaute was eventually exiled and died of poisoning in Rome in 1226. It is ironic that during his time de Breaute held the Sheriffdoms of both Bedford and Luton, where the Vauxhall and Bedford Vehicles companies were later to be based.
In 1857 Scottish engineer Alexander Wilson created a marine engineers at Vauxhall. They adopted the Griffin heraldic symbol, previously displayed by Falkes de Breaute, as the logo of the company. In time Alexander Wilson and Co became Vauxhall Iron Works Co. Ltd. and moved from building floating cranes to producing their first motor car in 1903, a five HP single cylinder, two forward, no reverse car that was steered by tiller. Some 70 were made in the first year before the model was improved for 1904, by adding a steering wheel and a reverse gear.
In 1905 the demands of car production saw the works moved to Luton and the company name changed from Vauxhall Iron Works to Vauxhall Motors Ltd. In 1906, the company promoted a new designer, Laurence Pomeroy (who had been an understudy of the chief designer F. W. Hodges). Pomeroy went on to design a string of superb cars, all with class beating performance, looks and handling. Indeed it was said by the 1920's that a Gentleman purchased a Bentley while a Cad purchased a Vauxhall! The famous Vauxhall 30/98 was one of the most stolen cars of its day, as it made an excellent getaway car for bank robbers!
In November 1925, the company was purchased by General Motors who brought over their Chevrolet lorry design to begin a new company, Bedford Trucks, which hit the road in 1930. During the war, Vauxhall produced Churchill tanks, at a new facility in Dunstable, while the Bedford lorry became the mainstay of the British Army, some 250,000 being produced.
At war end car production resumed but the company reputation for quality gave way to the fear of rust. It took until the 1980's to shake off this often unfair reputation. Vauxhall claimed a number of innovations for which it could claim credit – the first mass produced car to fit synchromesh and to fit a rubber cam belt.
In 1994 Bedford Vehicles was disbanded, while in 2017, the Vauxhall and Opel brands were sold to the French conglomerate PSA.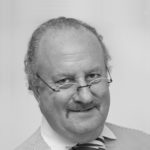 Philip Strickland
Legal Advisor