Don't you just hate it when someone says: "I told you so!"?
We wrote a legal update back in October 2021 – Communication is key – especially when dealing with the regulator!
Our client responded to the FCA's request for copies of their loan agreements for the last six months and the response that came back from the regulator should be a word of warning to all our clients. And once again, it is clear that you cannot rely on your motor finance provider to help you out!
The FCA had concerns with the representative APR that was being advertised on our client's website and the possible noncompliance with the FCA's Financial Promotions rules relating to Representative APRs.
Our client thought that their motor finance provider would give them the "heads up" if there was anything untoward with the finance examples on their website. Our client had been using 9.9% APR as their representative example for their finance quotes, however after review by the FCA, it was clear that 9.9% APR was not their representative example.
The FCA stated: "Our financial promotions rules apply to both lenders and brokers therefore your firm is responsible for its own financial promotions and how it calculates the Representative APR. We expect firms to use data from their own customers and identify the APR received. Following this, the data can then be used to establish what the Representative APR should be before advertising to the public on a website."
As expected, the FCA did not inform our client how this could be done, they just sent a link to the FCA handbook relating to the rules and guidance on representative APR, which for your information are CONC 3.5.5R and CONC 3.5.6G.
Involution
STAFF UNIFORM | PROMOTIONAL WEAR | MERCHANDISE | BUSINESS GIFTS
Leading experts in print, promotional clothing, staff uniforms, branded merchandise and PPE. Involution is your brand partner for promotional marketing and workwear, a one-stop-shop for your branded marketing needs for any business size and industry.
So, even if your motor finance provider suggests using 9.9% APR as a representative APR, you need to ensure that 51% of your finance deals are at 9.9%. If not, you will need to amend your website to the appropriate representative APR.
This could be particularly pertinent leading into the New Year with the Bank of England's announcement on 17 December that they are raising the interest rate to 0.25%, the first rise in three years. This will possibly force the finance providers to increase their rates which will then have a knock-on effect to the representative APR that are being advertised on your websites.
As an aside, I asked our client why he thought they received this review from the FCA? He admitted they had failed to complete their FCA annual return and received a fine of £250. This obviously highlighted a weakness to the FCA and gave them an opportunity for further investigation. You have been warned!
If you need any assistance in relation to any FCA matters, please do not hesitate to contact us.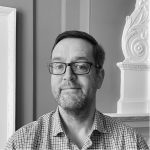 John McDougall
Legal Advisor