A somewhat curious feature of the law is the limited right to create a lien i.e. a legal right to retain goods belonging to another. 
Clients mostly come across this when they have carried out repairs to a motor vehicle and then have the legal right to refuse to hand over the vehicle until the bill is paid.
A lien only applies to charges due in relation to improvement or repairs.  It does not apply if goods are just maintained in working condition.
Sometimes problems arise when a vehicle is on finance.  In such circumstances the lien will attach only if the customer (the lessee) has 'actual' or 'ostensible' authority.
In cases where a vehicle is on finance the usual situation for 'actual' authority is where the terms of the finance agreement are such that the owner (the finance company) must have envisaged the possibility of creation of a lien e.g. by requiring the customer to keep the vehicle in good repair without expressly prohibiting the creation of lien. 
In a particular case (Albermarle Supply Company Ltd v Hind and Co 1928 – 1KB307), although a finance agreement expressly forbade the hirer form parting with possession of the vehicle and creating a lien upon it for repair, it was held that a customer had 'ostensible' authority to leave the vehicle for repair and a lien to be created since the repairer had not been made aware of the clauses prohibiting such use.
Beware, the exact amount must be demanded to maintain the lien and any storage charges (for which a lien does not exist) should be billed separately.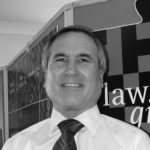 Dennis Chapman
In remembrance of Dennis Chapman 1951 -2015