Noise induced hearing loss (NIHL) claims continue to be a common occurrence despite the move away from heavy industry in the UK. Claims can be made decades after the noise damage occurred and the claims are a good source of income for lawyers.
Information provided by the Association of British Insurers suggests there was an increase of 189% in the number of NIHL claims between 2011 and 2014 although this has now slowed.
Employers have a duty under the Control of Noise at Work Regulations 2005 (CNWR) to prevent damaging exposure to high noise levels.
– the first step is an initial assessment to identify when and where high level of noise may occur. Follow this with a more detailed noise risk assessment which identifies the characteristics of the noise and determines the risk control measures to be taken. Issuing a box of ear plugs is not enough.
– If you're unsure if the work activities are a cause for concern, the "two metre" rule is an indicator. If you need to raise your voice to hold a conversation with someone two metres away, the noise may exceed 80dB(A) and warrant further investigation. Under the CNWR an average noise exposure of 80dB(A) required further action to protect staff.
If you do not have control measure in place, you can still act now to limit further damage to staff and the business in the future.
– make an initial estimate of the areas and activities of the areas and activities with high noise levels.
– identify the areas displaying warning signs to tell all those entering the area that hearing protection is compulsory. Ensure there is ready to access earplugs or ear defenders and that their usage is enforced.
– you can employ the services of a competent assessor to undertake a detailed noise assessment. Once the assessment is received, you will know if the current control measures are sufficient or if more needs to be done.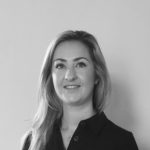 Roxanne Bradley
Legal Advisor