In a previous article we reviewed what information is needed on business stationery. As a result of changes in the Companies Act and under the Electronic Commerce (EC Directive) Regulations there are now several pieces of information that must be included on company and business websites and emails. It is not restricted to those businesses which buy and sell from the Website.
On websites and on emails a company must show:-
– Company name
– Company registration number
– Place of registration
– Registered office address
The information does not need to appear on every website page and commonly it will be included on 'Contact Us', 'Legal' or 'About Us' pages.
There is an argument that the same information as required on business stationery also applies to emails for businesses since it is essentially the same product but in electronic form.
On websites for companies and other businesses the following information is required under the E-Commerce Regulations:-
– The legal name, ie the Company name or the name of the legal person trading as a declared business name
– An email address
– A geographic address (Registered Office is required for companies anyway)
– Company Registration Number
– If a member of a trade/professional association the membership details including Registration Number should be provided.
– Clear and unambiguous pricing
– VAT number
Text messaging is also caught by the above legislation. There is a difficulty in that text messages are limited to 160 characters. Although it is open to legal challenge, the Government have given a suggestion that incorporation of a website URL at the end of a message is a practical way around it. Marketing by text message and emails must identify that it is a commercial communication, the person on whose behalf it is being sent and if appropriate the fact that it is a promotion along with terms and conditions.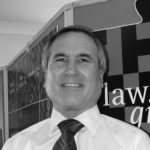 Dennis Chapman
In remembrance of Dennis Chapman 1951 -2015