We are seeing more and more complaints against clients who register domain names that the public are likely to believe have a connection with an already existing established business. 
The fact is you simply cannot do it.  Clients could be sued for "passing off" even if the name is not exactly the same as the other, established business.  Additionally, there could be offences under the Trade Marks Act for any similarity with logos or website design.
The upshot of it all is that you may have to pay compensation to the other business, re-name and re-brand all of your internet marketing and social media as well as transfer ownership of your domain name to that other business. It could be a costly mistake.
If you are not sure ask us for an opinion beforehand but erring on the side of caution is always advisable.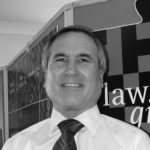 Dennis Chapman
In remembrance of Dennis Chapman 1951 -2015