Although not in the motor vehicle sector this case highlights the potential of a fatality when risk assessments are not carried out adequately when dealing with heavy items of equipment.
In this particular case, reported by the HSE, a gearbox/propeller unit weighing almost one tonne was notionally stable on a workbench while the 19 year old apprentice was reassembling it. Unfortunately it toppled onto his torso and left leg causing fatal injuries.
The company were fined £75,000 and ordered to pay almost £48,000 in costs.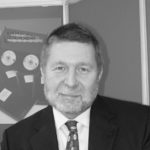 David Combes
In remeberance of David Combes 1948 – 2020