A marketing business owner has hit the headlines this week for warning phone addicts not to apply for a job with his firm. 
Two months ago, his company began confiscating the mobile phones of his staff, resulting in what he described as some of them as having 'separation anxiety'.  He says it had reached the point where employees were checking social media updates during staff meetings and something had to be done. 
Smartphone addiction is colloquially known as nomophobia. It is not a recognised psychological disorder, but many of us admit to looking at our phones far too much. People who give them up for a significant length time report being able to sleep better, improved memory and improved general wellbeing. Most Silicon Valley tech giants raise their children tech free or do not permit smart phones because the industry is aware they can be harmful and addictive.
Besides the potential harm of constant phone use, the potential impact upon productivity and focus in the workplace is the reason Mr O'Shaugnessy began confiscating them until lunchtime. However, unions have warned that such a strict policy can cause friction and that such rigid control can be reflecting of a culture which lacks trust. This can in turn impact upon employee engagement and effort.
Most employers have a mobile phone policy that may or may not be observed to any extent, but based on the headlines this week it seems that more and more employers will be enforcing that policy to some extent and asking that mobile phones are not in use during the working day.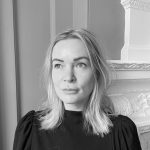 Polly Davies
Legal Advisor