As we move closer to the implementation of The General Data Protection Regulations (GDPR) in May this year, we are receiving an avalanche of calls to our legal helpline from anxious members, who have been affected by 'panic stations marketing' campaigns in and around GDPR.
We have therefore decided to publish some of the most common questions we receive with our answers.

I am a sole trader working from home, how do I prepare for GDPR?
I work from home. I only use paper invoices, I have no employees, don't keep a marketing mailing list and don't offer car finance. The only personal data I hold is that which is on invoices. What do I need to do in preparation for GDPR?
Whether you realise or not, you have already undertaken your information audit and that audit has concluded that the only personal data you hold is that which is on your invoices. You now have to check the basis on which the processing of that data is lawful. There are 6 lawful bases under the GDPR. Keeping personal data on invoices will be covered by Article 6(b) which states:
"processing is necessary for the performance of a contract to which the data subject is party or in order to take steps at the request of the data subject prior to entering not a contract".
In simple terms as you can't sell this person a car without knowing who they are, you need that personal data to be able to enter into a contract with them and so you are fine to keep it.
Further, you need to keep those invoices to prepare your accounts for HMRC. This brings in a further lawful basis covered by Article 6 (c) which states:
"Processing is necessary for compliance with a legal obligation to which the controller is subject."
In simple terms you are legally required to keep accounting records for 6 years and so holding that data also meets Article 6(c) .
In addition to needing a lawful basis for processing, you have an obligation to ensure the data is accurate and that you do not hold more information than is necessary. Data minimalisation is one of the 6 principles of the GDPR which are set out in Article 5. Article 5 (c) states that personal data shall be:
"adequate, relevant and limited to what is necessary in relation to the purposes for which they are processed"
So, if your invoices ask for an email address but you never send emails, you should remove the box from your invoices to ensure you don't keep hold of more information than you need.
Finally, you need to ensure you don't keep data for longer than is necessary and that you look after that data.
In your case, you securely store your invoices in a locked filing cabinet. They are sent to your accountant by special delivery and returned in the same manner and then archived in your loft and then disposed of after 6 years by a registered data disposal company. This will all meet the GDPR standard and so as long as you continue with this business model, you will remain compliant.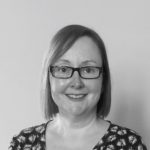 Nona Bowkis
Legal Advisor