The Brexit transition period is due to end on 31 December 2020 and research released by the Confederation of British Industry has revealed that one in five businesses are less prepared for Brexit now than at the start of the year due to Covid-19.
Car dealerships are unlikely to feel the impact upon recruitment in the way the hospitality and the care industries will, but IF any of your employees are EU nationals, it is a good idea to remind them to check they have applied under the EU Settlement Scheme which ensures they can continue to work from July 2021.  
EU, EEA or Swiss citizens and their family members who are living in the UK before 1 January 2021 need to apply to the EU Settlement Scheme to continue living in the UK after 30 June 2021, either for settled, or pre-settled status. 
Those living here for five years already can apply for settled status and those here for less than five years apply for pre-settled status.  
The government has produced an employer toolkit which gives guidance on how to advise any employees if necessary.  
https://www.gov.uk/government/collections/eu-settlement-scheme-employer-toolkit
Until 30 June 2021, you will need to check a job applicant's right to work in the same way as you do now. The government has an online service to assist employers with this or you can contact Lawgistics.  
https://www.gov.uk/view-right-to-work
The government advice is clear in that employers have a duty not to discriminate against EU, EEA or Swiss citizens.  Employers cannot require EU citizens to show you their status under the new EU Settlement Scheme until after 30 June 2021.
The rules do not apply to Irish citizens who have rights of free movement due to the Common Travel Area, a long-standing agreement in place since the 1920s, which means Irish citizens can continue to live and work in the UK as they do now.  
https://www.gov.uk/government/publications/common-travel-area-guidance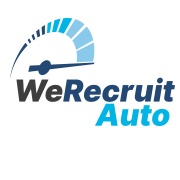 WeRecruit Auto Ltd
Permanent Automotive Recruitment from an experienced and trustworthy recruitment partner.
We cover roles within all departments and sectors of the Automotive industry, and are here to listen to your specific needs and find the most suitable candidates to fit your business.