There has been much talk about the implementation of the EC Consumer Credit Directive and there is only three months before it will become the law through UK legislation.
The Department of Business Innovation and Skills (BIS) have produced a 111 page guidance booklet so get one on your Christmas list now!!
There are substantial changes and just as we had the furore with PPI misselling, the selling of vehicles on credit will require more documentation and the process will be slowed down to allow customers time to think and shop around. Advertising will also be affected.
It is not practical to provide advice at this stage on every provision of the new legislation and so this article will look at the changes as they are most likely to affect motor dealers for the majority of their business. If you are engaging in something outside the normal HP/Conditional Sale type of finance sale through a lender then you should always check the details on the BIS website.
Advertising
The new required information is:
– as now exempt if it indicates credit is only available to companies or for business purposes
– as now it must include the name of the advertiser(s) generally
– generally a postal address if a representative example is triggered (see below)
– inclusion of an interest rate or any amount relating to the cost of credit triggers a representative example- the representative example will include a representative APR which the motor dealer anticipates will apply to 51% or more deals arising from that advertisement. This may require more homework from the motor dealer to look at the rates offered by finance companies to not fall foul of this requirement. If the motor dealer draws customers in on a very low APR and then switches them into higher rate deals then this will be outlawed. The same would be applied if a particular motor dealer sold most cars to subprime customers who generate higher interest rates
– the words 'representative example' must be used
– the 'standard information' in a representative example
– rate of interest
(generally the effective annual interest rate taking into account compounding interest)
– total charge for credit charges eg acceptance fees
– total amount of credit- representative APR – again a 51% rule applies
– cash price
– deposit (advance payment)
– duration of agreement
– total amount payable
– repayment amount
– the standard information must be clear concise and presented together. No scattering of the information around the advertisement. Equal prominence for all information (including APR). More prominent than the trigger information
– some advertisements with triggers of subprime availability (non-status borrowers) favourable credit, incentives for credit will attract a 'representative' APR but this does not trigger the standard information
– advertising on text message with reference to further information on, say, a website, is not allowed
– where security is or may be required this must be shown, eg a guarantee may be required.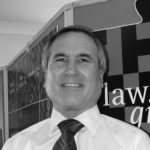 Dennis Chapman
In remembrance of Dennis Chapman 1951 -2015