After two years of talking, planning, and training… we have done it! We completed the Ben Industry Leader Challenge (ILC) of climbing Mount Kilimanjaro.
On 21st November, Matt Wigginton, Zara Ross, Rachel Clift from Ben, Rachael Prasher and Jim Holder from What Car?, Andy Bateman and James Tordoff from JCT600, Adrian Wallington and Clive McGregor from Marshalls, Spencer Grinham and Neil Grant from Hella, Andy Hamilton and Anthony McAteer from Euro Car Parts, Leon Bosch from Partners& and I (Joel Combes) set off through the jungle. Our first camp, Machame Camp, at an elevation of 2835 metres, was already in the high altitude zone.
Day 1
We arrived at Machame Gate by bus and were greeted by torrential rain. In hindsight, this was probably a warning that the task ahead of us was not going to be easy. We waited for the sky to clear to give us the best chance of keeping dry. However, our leaving late meant walking through the jungle in the dark, and attracting all sorts of flying insects with our head torches.
We arrived at the first camp, thankfully dry but covered in bites. We were shown to our tents which boasted the luxury of a thin mattress and pillow and were pitched on a gradient following the line of the mountain. Luckily, I brought an extra pillow and blow up mattress to simulate the comfort I was used to. But sadly, the camber was too great and my sleep experience turned into a toboggan ride as I was continuously sliding toward the doorway of my tent. It was clear that getting any sleep was going to be a valuable luxury.
We also had a mess tent for breakfast and dinner meals, and these were all prepared by our team of local porters.
Day 2
Day Two started dry, and it was very easy to slip into holiday mode as we headed up the mountain towards our second camp, Shira Cave Camp, located at 3750 metres altitude. After a couple of hours of walking "uphill", we all could feel the strain on our legs and started to experience breathlessness because of the high altitude. And then, the heavens opened! During the remaining two hours' walk to Shira Cave, we were subjected to torrential rain followed by sleet. We were all thoroughly soaked by the time we arrived at the camp.
Understandably, to protect the mountain's ecosystems, campfires are banned. And so, as it continued to rain, we opted to turn our tents into drying rooms, optimistically hoping our body heat would help to dry our clothes by the morning. Luckily, the sun came out and we managed to get most things dry… apart from our walking boots. These would need another solution, and quickly, as the idea of walking in wet boots was most unappealing.
Day 3
Day Three was all about adjusting to the altitude to increase our chances of successfully reaching the summit and experiencing first-hand the physical effects of being over 4000 metres high. We trekked to Lava Tower Camp based at 4600 metres altitude to have lunch and then come back down to Barranco Camp at 3900 metres, to sleep.
Again, what on paper seemed a relatively easy walk, was not. Adapting to the high altitude was difficult enough and the ensuing snow blizzard didn't make things any easier.
After experiencing the side effects of high altitude, the feeling sick, headaches, and a nosebleed, I was ready for sleep! And despite the angled bed and still recovering from feeling ill, I quickly fell asleep.

Haswent
Websites for dealers small and large
Composer is a next-gen automotive platform that has been designed from the ground up to give you an intuitive way to promote your stock. You have extensive stock management options, and you'll gain a brilliantly responsive new website to advertise your stock, starting at just £39.99/month.
Day 4
Day Four was the Barranco Wall, probably the highlight of my adventure but not for any of the team who suffered from a fear of heights. Tackling the Barranco Wall was not for the fainthearted. The ascent was hard enough and, at certain points, we had to crawl on our hands and knees as the terrain wouldn't allow us to stand upright.
We arrived at our fourth camp, Karanga Camp, based at 3995 metres altitude with enough time to enjoy a well-deserved rest. Naturally, it was raining! But as this was the theme upon arriving at each camp, everyone knew the drill. The freezing temperature left the tents frosted, contributing to the already damp feeling.
Rest was required. Tomorrow was going to be a momentous day, as we were going to pitch a camp ready for the summit climb. The plan was to leave at midnight so we would reach the peak at 6:00 am – exhausting but doable.
Day 5
Day Five saw us leave the camp at 6:30 am. We hoped we could avoid the regular afternoon rain so we had a chance of staying dry before setting off for the summit at midnight.
Within five hours, we climbed to Barafu Camp at 4673 metres altitude. Fortunately, the weather held and so, we could set up our camp in preparation for the summit, in dry but bitterly cold and windy conditions (-6 with a -12 wind on the face).
We had an early dinner and then retired to our tents for rest before the summit climb. We were to meet in the mess tent at 11:30 pm for breakfast and leave camp at midnight.
We knew it was going to be one of the toughest days of our expedition. But I hadn't realised just how fatigued I would be from the lack of sleep and how weak I would feel from the lack of substantial food. The food had been good and plentiful, but the lack of meat and too much soup had taken its toll. We had been burning 6500 calories daily but only eating about 1200!
It took us five and a half gruelling hours in the dark to get to the top. We walked at a snail's pace due to the lack of oxygen. We were silent for most of the way, as we could not afford the extra breath to talk. This was a mental challenge to persevere. We had come so far, it was not the time to give up.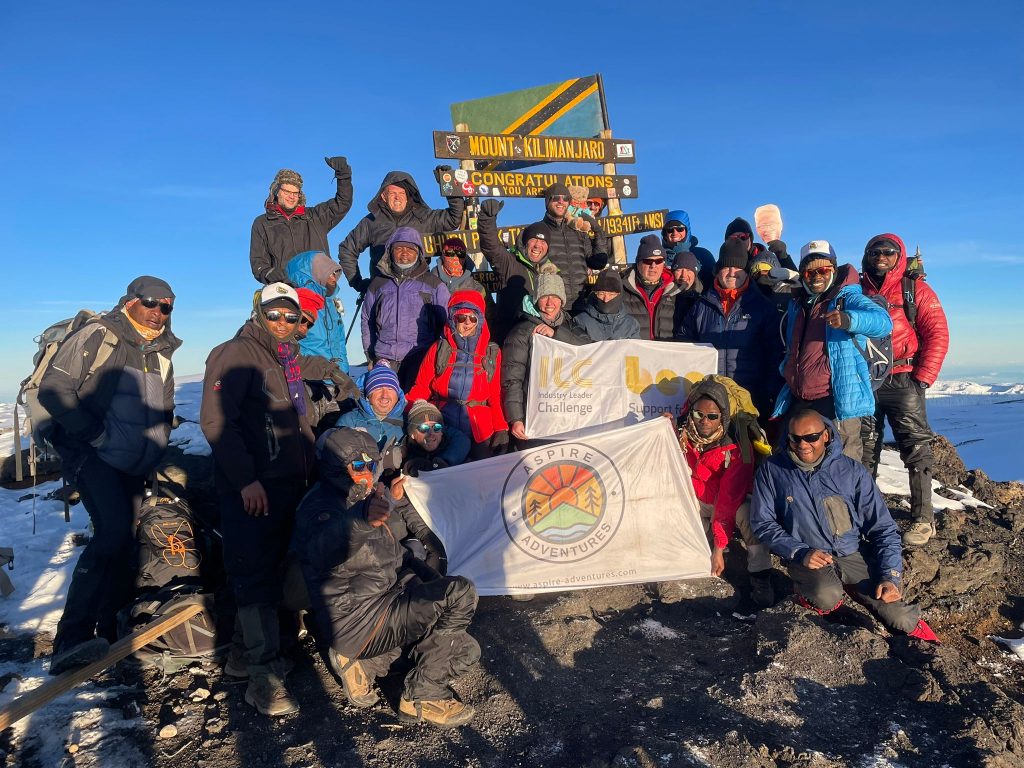 And sure enough, as the sun hit the horizon, we had made it to the summit! I witnessed the most amazing sunrise I had ever seen. The summit was everything I had expected and more. The spectacular sunrise gave the team an extra boost to celebrate our success.
The whole team made it to the top 😊
Teamwork
This was truly an experience I will never forget and an achievement I am extremely proud of.
However, none of it would have been possible to endure or enjoy without the team. It was a real joy to share all the good and bad moments with a fantastic group of people. Each team member helped me believe I could go that little bit further than I imagined and made my dream of climbing Mount Kilimanjaro possible.
And focussing on the reason we climbed this formidable mountain. We wanted, and still want, to raise awareness and money for the automotive industry charity, Ben. If you would like to help, please make a donation using the link below.
Sponsorship
I would like to take this opportunity to thank our Federation sponsors: the Independent Garage Association, IAAF, and Scottish Motor Trade Association Ltd (SMTA), and our suppliers: Car Dealer Magazine, Peterborough Printing Services Ltd, and Keeping HR Simple for their generous donations.
Thank you also to GardX Group, DRAGON 2000 LIMITED , Automotive Compliance Ltd, Profit Box, WeRecruit Auto, Impression Communications, Haswent, Involution, Connected Car Finance, Wearewood Services Ltd, Brave Agency, ECSC Group plc, and Octane Finance who took A BANNER ADVERT on the Lawgistics Ltd website to support the cause.
And, last but not least, thank you to all the dealers who entered OUR PRIZE DRAW COMPETITION. The competition is now closed and we will announce the winners before Christmas.