In a recent report in TS Today, it was revealed how a number of Yorkshire Trading Standards Officers and the Police had followed up many complaints by customers of Chequered Flag Car Sales in Hipperholme, West Yorkshire. 
The investigations revealed several types of offences including the sale of written off cars sold as 'immaculate', false mileages and warranties and misdescription concerning service histories.
Six individuals were prosecuted and found guilty by a jury of conspiring to defraud customers.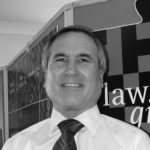 Dennis Chapman
In remembrance of Dennis Chapman 1951 -2015