In a recent legal update we mentioned that a consumer can withdraw from / cancel certain finance agreements and those contracts concluded by 'distance'.
There is a third situation where this can happen, namely contracts concluded in a consumer's home or place of work that have a value of over £35. These are covered by the Doorstep Selling Regulations.
In such situations, the consumer has to be given a 7 day 'cooling off' period. Any effective cancellation means that no monies are due and any paid are to be returned. If a consumer wishes for work to commence within the cancellation period then they must be given a cancellation notice but can request in writing for the work to commence within that time period. This means that they can still cancel but have to pay for work undertaken pre-cancellation.
At first glance, you might think that the recent Court of Appeal decision in Robertson v Swift concerning a contract for furniture removals to be of no consequence to the motor industry. Feel free to think again!
For if your business has an element of mobility – where you venture into consumer's homes or perhaps more likely their place of work to say, undertake minor repairs to windscreens or to bodywork – then you may well need to comply with the somewhat unforgiving provisions of the Doorstep Selling Regulations.
The details of the case can be summarised here:
1. The trader (a home furniture remover) agreed a contract to move the consumer's possessions from his home in location A (where the contract was agreed) to a new home in location B.
2. No cancellation notice was given.
3. Consumer paid £1000 deposit.
4. Trader turned down other business and made provision for transportation vehicles.
5. Consumer found cheaper quote and decided not to go ahead.
6. Trader's terms gave a sliding scale of cancellation charges – higher nearer the intended contract time.
7. Consumer sought to recover his £1000 under the Doorstep Selling Regulations.
8. Trader sought to recover 50% of the whole contract value.
9. Court stated:
A consumer can only cancel if they are given a cancellation notice.
There was no cancellation here because there was no cancellation notice given.
The £1000 paid was therefore repayable to the consumer BUT
Because the trader had not given a cancellation notice it meant that the contract was unenforceable against the consumer and so the trader was not entitled to any further monies under the contract.
And so, if you fail to give an appropriate cancellation notice (even if you complete the work entirely satisfactorily) then the consumer may simply walk (or drive) away and not have to give you a penny.
Perhaps bizarrely, the court felt that even though the trader had failed to give a cancellation notice when he ought to have done – the trader was still entitled to retain the deposit. Had he complied with the law and given a cancellation notice, the trader would have had to have given all of the deposit back.
And so if you do agree to do car repair work whilst attending a consumer's home or place of work, you may think it better not to give a cancellation notice if they pay for that work. We say 'no' because the sanction for not giving the appropriate cancellation notice is a FINE by a CRIMINAL Court of up to £5000 for each occasion that you fail to give a notice in the manner stated by the appropriate Regulations. And, of course, a consumer does not have to pay you a penny for any work actually done.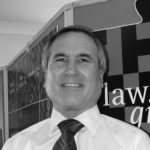 Dennis Chapman
In remembrance of Dennis Chapman 1951 -2015