An OFT investigation found an abnormally high 95% of customers selling their car to webuyanycar.com received less for their vehicle than the original website valuation. In some cases this amounted to hundreds of pounds.
It was only at the appointment, that some customers found that 'other factors' reduced the final price from the headline valuation, including 'market conditions'. It appears that vehicle inspectors were also set targets regarding the purchase of vehicles, sometimes to reduce the valuation offered by up to 25 per cent, upon reappraisal.
Customers were also pressurised to respond within 7 days to take up the offer.The company fully cooperated with the OFT's investigation. Whilst the company and its directors believe that their business practices complied with the law, they have agreed to make changes in light of the OFT's investigation. The company and its directors have signed undertakings that include promises to:
– Make clear that the website may be reduced when a range of other factors might be taken into account.
– Not set targets for vehicle inspectors with benefits if the price is reduced.
– Not deduct from the final price the amount of any refund available to the customer from the DVLA for the road tax remaining on the car
– Clarify to customers that the next working day payment service (which incurs an additional charge of £24.75) is optional.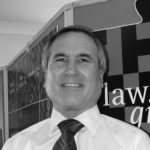 Dennis Chapman
In remembrance of Dennis Chapman 1951 -2015