Following on from the previous article about 'Trade Sales' there is still a lot of misconceptions about 'warranties' and how they fit in the Sale of Goods rights.
When a dealer sells a car to a private customer the Sale of Goods law says the car must be;
of satisfactory quality
fit for its purpose
It is more helpful to not think of these legal requirements as warranties but rather as implied terms and conditions, ie they are there in the contract of sale even though you don't see them in words in the 'small print'.
It is more helpful to think of warranties as those additional agreements the dealer enters into with the customer which expressly state in a booklet of words what the dealer or insurance company will do if the car breaks down within a certain time period.
Simply because you give a one month or two month or three month etc warranty does not mean that the customer is excluded form making a legal claim outside these time limits under the Sale of Goods Act because the car was not of satisfactory quality or fit for its purpose when sold.
There is a magic figure of six months thrown around in respect of Sale of Goods rights. The significance of six months is that if a customer makes a legal claim under Sale of Goods law because a fault has arisen in the first six months it is presumed that the fault was there when sold unless the seller can prove otherwise. So if it is something that develops due to wear and tear as expected on a car of such age and mileage and it couldn't have been inoperative when the car was sold (eg if a clutch did not work when the car was sold it would be fairly obvious since you couldn't get the car in gear!), then this is good evidence on the sellers part to disprove the claim the customer is trying to make.
There is also a magic figure of six years sometimes quoted. The significance of this is that there is a piece of law which says that a claim cannot be commenced at Court if the sale of the vehicle was more than six years ago.
You do not have to provide a warranty (ie a booklet with written terms and conditions) when you sell a car to a private customer. You are however, caught by the requirements of the Sale of Goods Act.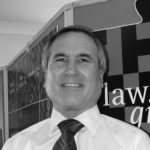 Dennis Chapman
In remembrance of Dennis Chapman 1951 -2015