The FCA held its first "webinar" recently (and It was evident that it was their first!) where I was able to log in and watch staff from the FCA discuss how they are handling this role, previously undertaken by the Office of Fair Trading.
As you know, the FCA is taking over the issuing of consumer credit licences and the process of issuing interim licences is now underway. The cost of granting longer-term licences from April is not yet exact BUT they have announced that it will cost considerably less for small businesses than was first mooted.
Now, that is not to say that they are not going to cost very much – only less exorbitant than was perhaps anticipated. They claimed to have listened to respondents to their consultation. They could not have ignored the cacophony. When we know more information, we will broadcast it here.
The FCA did ignore any direction on "how to talk in plain English" though. Due to the vast number of applications they would otherwise be bombarded with in April it would make sense to say that they will "stagger" the registration process. Alas not. Instead, everyone will be "allocated a landing slot" in which to submit their application. Luckily this wasn't deemed to be "blue sky thinking" although one just hopes that all such applications will land "in the ballpark" and "not behind the 8 ball"!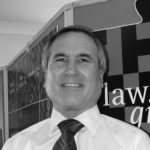 Dennis Chapman
In remembrance of Dennis Chapman 1951 -2015