This car dealer group were found guilty of not paying two workers the correct minimum wage, to the sum of £806.37.
Due to the changes brought in last year, the Government will now publicly 'name and shame' any employer who is found guilty of not paying minimum wage.
Further Martins Group will face fines and costs associated with the investigation, along with having to repay the wages back to the employees in question. As such this will be a very costly mistake for any employer. Martins Group have affirmed that having worked with HMRC closely it was only these two out of the 275 staff that they employ that received an incorrect payment. However an offence is an offence and due diligence in this area is needed more than ever.
A reminder that from 1 October 2014 minimum wage will be increasing and as such employers will need to start planning now for the increases and making sure that the rates of pay are correct from the very first day of the increase.
A reminder of the increases;
21 and over: from £6.31 per hour to £6.50
18-20: from £5.03 to £5.13
16-17: from £3.72 to £3.79
Apprentices: from £2.68 to £2.73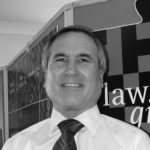 Dennis Chapman
In remembrance of Dennis Chapman 1951 -2015