Lawgistics Director of Legal Services, Dennis Chapman and Employment Law Specialist, Nicola Porter have identified the following five pieces of legislation which will have a big impact on dealers in 2015.
No 1. Shared Parental Leave

The final Shared Parental Leave Regulations have just been published, due to be implemented on 01 December 2014. However the regulations are only applicable to babies born on or after 05 April 2015. In essence parents will be able to share between them a period of 52 weeks leave when they have a child.

The rules in regards to pay will remain the same (i.e. only 39 weeks will be paid) however this again will be split between the parents, should they decide to split the leave between them.

The mother must take the first 2 weeks as compulsory leave, and ordinary Paternity Leave will remain in place (father has the first 2 weeks off). However if the remaining period is split this could impact a lot of businesses, especially those in a highly male dominated environment. At this stage it is unknown how many fathers will take up this opportunity. However, businesses have to be prepared to accept requests from 05 April 2015.

As such we would recommend evaluating all maternity, paternity, and adoption leave (it will effect this as well), policies in the very near future. We will obviously be drafting suitable templates for our clients to use over the coming months, and advising them individually as and when a request is received.
No 2. Alternative Dispute Resolution (ADR)

Riding on the back of the new Consumer Rights Act the Government is required to implement an ADR Directive by July 2015 and it will come into force in January 2016. At the moment certain trade bodies offer arbitration schemes through Codes of Practice but it is generally industry-specific and therefore tends to be piecemeal. Lawyers in their various guises are well aware that the County Court system is completely overloaded and the outcomes can be extremely perverse. In addition we have a scheme operated by the Financial Ombudsman Service which sets a very high bar against the dealer when assessing complaints from consumers who blindly follow a set of tick boxes offered by claims management companies.

A new ADR scheme which is operated by adjudicators with knowledge of motor vehicles could be extremely useful for dealers but it remains to be seen who will be selected for such a task.
No 3. Holiday Pay
Since the recent Employment Tribunal decision in the case of "Bear Scotland", employees can now claim for overtime pay when taking annual leave. At present it is inferred that this will only be implemented for mandatory overtime, as the ruling states nothing about voluntary overtime (unless regularly worked).

The ruling made it clear that the UK law is incorrect and as such employees are entitled to backdate their claim to previous periods of holiday pay. This appears highly unfair on businesses, as they were simply complying with the law that was present at the time. However employers should be aware that employees may be able to backdate their claim, the scope of which has been limited in the ruling, however it is still a concern for businesses of all sizes.

At this stage, it is advised that all companies consider how much overtime is being used within their company and strip this back where possible, to limit the amount of damage this can do. In relation to when to begin implementing the ruling, it is subject to much debate at this stage. However we have recommended a number of options to our clients, beginning with reviewing their annual leave policies and leaving the channels of communications open with their employees. We are advising our clients on an individual basis as to how best move the matter forward both in relation to future and past pay.


No 4. Consumer Rights Act

The piecemeal existing consumer Sale of Goods Law etc will be drawn together in a new Consumer Rights Act. The two main aspects affecting dealers are the changes to existing Sale of Goods law and issues about Unfair Terms. Some dealers will like it, others won't. It will give clearer rules on quality issues, delivery times and remedies if things go wrong, and what is considered fair and unfair terms.

Specifically, rather than leave pre-contract information woolly as to how it affects consumer rights, such information will be considered an essential part of the contract, and any misinformation will be a clear breach of contract. The terms we have grown to love such as satisfactory quality, fitness for purpose etc will become part of a statutory guarantee. Unless agreed otherwise there will be a maximum 30 day delivery period for the supply of a vehicle to a customer.

There will be a new 'early right to reject' a defective vehicle within 30 days after sale. The dealer will, however, have one opportunity to repair or replace before the customer can invoke a final right to reject with a full or partial refund.

As now, a fairness test for all contract terms will apply except in the case of the price and subject matter. The latter two must however, be transparent and prominent ie has it been brought to the customers attention in such a way that the average customer is aware of it. Written terms must be transparent (plain, intelligible and legible). Further guidance is to be prepared.

The new law will reduce 'grey' areas, so that there is more of a level playing field for all dealers, and the customer and dealer will know where they stand.

As now, there will be civil law claims in the County/High Court if dealer and customer cannot agree.

The Bill is due to come into force on 1 October 2015 and dealers will need to get up to speed with the new rules if they want to keep out of Court.


No 5. Consumer Credit Authorisation

The period for seeking authorisation/permission to offer consumer credit will still be a big issue for dealers in 2015. There are crucial decisions to be made as to how the dealer ensures they retain the continuity to be able to sell cars on finance.

The first main decision is to understand whether a business

(i) has interim permission and wishes to step up to full authorisation, limited authorisation, or become an appointed representative of a finance company. The business will need to apply for authorisation in an allocated application period sent out. If the business has not received an allocated application period an email can be sent to

[email protected]

and it is important to include the OFT licence numbers in the subject line.

Authorisation periods will last for three months in the period 1 October 2014 to 31 March 2016.

Principles for appointed representatives had an application period between June to August 2014.

So long as dealers apply within the allocated application period the interim permission continues until a decision is made on the application. However, if dealers fail to apply during the allocated period the interim permission lapses and the business cannot make finance deals.

or

(ii) wants to become authorised from 'scratch'. In such a case a business can apply whenever it so wishes.

The next decision is to establish whether the business needs limited or full permission and this will depend on the credit activities to be undertaken.

The application process will continue through 2015 and it is already causing great difficulties for dealers in understanding the jargon being used. More and more dealers are seeking professional help in tackling this minefield. Contact Lawgistics – we are dealing with many such cases.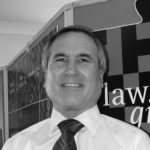 Dennis Chapman
In remembrance of Dennis Chapman 1951 -2015