From the beginning motoring was dominated by the engineer, the coachbuilder and the chauffer. Fuel came from chemists in cans. Journeys rarely exceeded a few miles, while a motorist frequently (and gratefully) ended his journey being pulled to the nearest Inn by a plough-horse. Coachwork was mostly open; there was no thought of vehicle theft.
We recently were asked to advise a client where they had attended a customer who had locked himself out of his car. All efforts to conventionally gain access failed. The customer was desperate and sanctioned any means to enter the car and start it. Eventually he agreed to the breaking of a window, having been told of the likely cost and this was done. After starting the car by bridging the circuit, the customer drove off in his now somewhat draughty car. Before he left he ordered a replacement window.
The driver was never seen again. Instead a different and rather irate customer appeared at the garage demanding to know why they helped a thief steal his car from outside his home!
The lesson here is that a stranded motorist should always be asked to provide his credentials, even in a stressful situation. They should be photographed, recorded and made to sign for the voluntary damage. The complainant too should be checked. It might have been a joint enterprise to extort damages.
Sadly, this horsing around cost our Clients rather more than a Pony!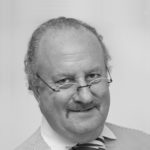 Philip Strickland
Legal Advisor