The Government is seeking to review Sale of Goods Law.  The proposals are trying to make the law clearer for all concerned and includes:-
Change 'implied terms' such as 'satisfactory quality' and 'fit for purpose' into clearer statutory guarantees.
Clear time limits to reject goods.
Fixing the number of times a seller can repair goods before the requirement to refund kicks in.
Put limits on how much reduction can be applied for use when refunding a customer.
We will keep you posted on developments.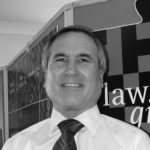 Dennis Chapman
In remembrance of Dennis Chapman 1951 -2015