The notion of "good work" has hit the recent headlines with the pending publication of the Government review into modern working practices in the UK which is due to be published next month, following persistent scandals over bad working conditions such as at Sports Direct and insecure contracts in the gig economy.
The Chartered Institute of Personnel and Development has just published its 'Manifesto for Work' which urges the Government to put 'good work' at the heart of its thinking in order to improve the economy and boost individual welfare and prosperity – creating the conditions for good work in organisations across the country. We spend much of our lives in work and good quality work is good for us and good for society.
The CIPD believes; that "good work" is vital to improve trust in business, accelerate economic growth and improve outcomes for Britain's workforce and that; "The key to building better businesses, and a better economy, is dealing with the long-standing challenges that have led us to a point where pay is stagnating, trust in business is declining and there is falling investment in skills. We can only solve these challenges by investing in people through skills and training, reforming corporate governance to improve public trust and increasing diversity in our workplaces"
Human Resources professionals have long extolled the virtues of an engaged workforce. Happy employees are more likely to have a commitment to the organisation and be motivated to perform well and go above and beyond what is expected of them. However, many SME's still struggle with workforce management and staff motivation, so perhaps to coincide with the government review of modern working practices, it may be a good time to have a look at our own management practices and explore areas of improvement such as training, skills and employee benefits, in order to enhance employee productivity and overall wellbeing, which as we have heard, is good for all of us…..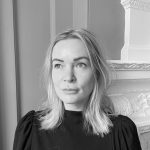 Polly Davies
Legal Advisor