The Trading Standards Officers in Northern Ireland have seized a quantity of fake brake pads destined for VW/Seat/Skoda/Audi vehicles.
It followed a tip off from the VW Group.  The counterfeit goods were extremely dangerous with some parts merely held together with glue.  A number of signs in the labelling show them up – not least of which is the fact that they were labelled 'Wasserpumpe', the German for 'water pump'!!  There are no fitting instructions in the box, the tamperproof seal is missing and there is not batch/production code.
Although found in Northern Ireland all garages should be vigilant.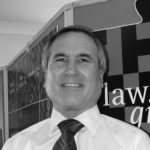 Dennis Chapman
In remembrance of Dennis Chapman 1951 -2015