We have discussed previously the dangers that social media can cause with Employees in the workplace. However, what about when an employee leaves your employment, can social media be an ongoing issue?
Whilst most employment contracts will hold 'post termination restrictions' which restrict contacting customers for a period of time after the employee, can these restrictions apply to keeping contacts on a social media site?
You can obviously restrict access to company social media pages through post termination restrictions as they are the property of the company, but restrictions on personal accounts will be more of a challenge to overcome.
A customer will see from their personal profile that the Employee has left your employment and choose to contact them at their new place of work. This would not be covered by post termination restrictions as the ex Employee has not actively contacted the customer; however you have still lost business.
You can make it clear in a social media policy that any social media sites that are used for the business purposes are under your control, so if you ask an employee to use their personal page to contact people, you can order that these contacts be deleted upon termination.
In essence we would recommend it safer that you set up a company page and not let personal pages be used as a marketing platform, as this will be in your control. You may also put that you do not wish for employees to put their place of work on their personal pages without permission, as this may also eliminate other issues associated with facebook and employees.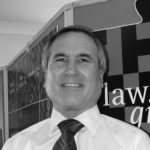 Dennis Chapman
In remembrance of Dennis Chapman 1951 -2015