Following our glorious summer (albeit unbearably hot for much of the time) Legal advisor Katie provides advice on how to deal with the heat from a legal standpoint.
The summer period frequently prompts the question of whether employees are entitled to be sent home if the workplace reaches above a certain temperature.
The law does not set a minimum or maximum working temperature limit. However, the Workplace (Health, Safety and Welfare) Regulations 1992 place a legal obligation on employers to provide 'reasonable' workplace temperatures.
A reasonable workplace temperature will vary depending on the nature of the work and environmental conditions. For example, a reasonable workplace temperature for those who undertake manual work outside will be different to office working environments.
If staff start to show signs of heat stress or thermal discomfort, for example they are fatigued, suffer lower levels of concentration and their quality of work or productivity is affected, then a risk assessment should be carried out to determine whether the workplace temperature is reasonable. The employer should then act on the results of that risk assessment.
To reduce the effects of thermal discomfort and heat stress, employers are advised to consider the following:
• Relaxing the workplace dress code
• Allowing more frequent breaks
• Providing the option of flexible working hours including working earlier, later or doing split shifts
• Providing air conditioning or desk fans
• Providing free access to cool drinking water
• Introduce shading to rest areas
• Where Personal Protective Equipment is required, evaluate whether newer, lightweight PPE can be used
For advice on how the weather can affect your business and what you need to do to protect your staff from adverse conditions, Lawgistics Members can contact the legal team.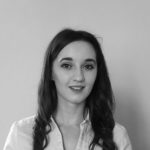 Katie Fitzjohn
Legal Advisor