On 31 March 2011 the Government published guidance on what procedures businesses must put into place to offer as a defence if accused of failure to prevent bribery.
The legislation will come into force on 1 July 2011.
Essentially bribery is defined as giving someone a financial or other advantage to encourage that person to perform their functions or activities improperly or to reward that person for having already done so.
Adequate procedures depend on the bribery risks you face and the nature, size and complexity of the business. As a business, considerations include:-
1.    Proportionality – how large and widespread is your business?
2. Commitment of the business leaders.
3. Risk Assessment. Who do you do business with? Where might bribery be common place?
4. Due Diligence. Carrying out checks on who you are dealing with.
5. Communication. Explain to all people who may cause risk whether internal or external what you are attempting to avoid.
6. Monitoring and review.
It is still permitted to provide genuine hospitality (if reasonable and proportionate). Tickets to sporting events, lunches, paying for travel expenses is still acceptable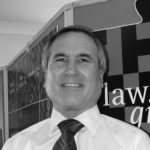 Dennis Chapman
In remembrance of Dennis Chapman 1951 -2015