A question that we frequently receive from Clients concerns their duty to their customer who asks for non-standard or performance enhancing parts to be fitted to their car. 
Modifying a car by remapping the ECU or by improving the fuel combustion or road holding can of course be a good thing, as most cars are pre-set by the maker to be averaged out for all drivers expected to use it, ranging from a newly qualified young tearaway, to a doddery old codger who never took a driving test! Tailoring a car for a specific owner might be regarded as a worthwhile improvement in both user-friendliness and overall safety, for a person who is comfortable in the car is likely to be a better driver.
There are reasons however to be very cautious about making such changes. Apart from the possibility that any non-factory change might invalidate a warranty, there comes with such alterations, a duty on those who agree to carry them out, to ensure that they are compatible, legal, safe and above all, do not leave the owner in ignorance about the effects of those changes.
In March 1964, the Formula1 World Champion Graham Hill (father of Damon), crashed his BRM at Snetterton, Norfolk, while leading the Daily Mirror International race in pouring rain. His car was a new machine, designed for a new type of engine and a new design of Dunlop tyre. As is often the way with motor sport, on race day the new engine was not ready nor were the new tyres. In consequence Hill, who hardly ever made a driving error, started from the front row in a car he had not been able to properly evaluate. Driving at over 140mph, the tyres hit a river and threw the car into an earth bank, creating a golden opportunity for a photographer, Arthur Siddey to get the photo of his life. In fact, it nearly cost him his life as he fell backwards when the car passed over him!
The car aquaplaned because the tyres failed to drain water, partly because the suspension had been set up for a different tyre, while the old engine had been shoe-horned into the frame, resulting in a tendency to weakness at the back and a need to fit makeshift suspension. Each of these compromises made the car difficult to manage when Hill needed to respond to the sudden lifting of the car by the water stream. Being a professional, he had nothing to complain about and in fact gave an hilarious interview to Raymond Baxter, the BBC commentator, after the race. "Having lost two wheels, I did not see much point in continuing" he joked.
Professional drivers are expected to cope with different technical challenges. The average consumer however, requires constant reassurance and education when specifications are changed.
Arthur Siddey's pictures made the centre pages of the Daily Mirror. It is not an accolade we would recommend for any of our clients!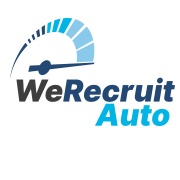 WeRecruit Auto Ltd
Permanent Automotive Recruitment from an experienced and trustworthy recruitment partner.
We cover roles within all departments and sectors of the Automotive industry, and are here to listen to your specific needs and find the most suitable candidates to fit your business.