Dealers often don't realise the legal significance of words both printed and written on sale documentation.
When you sell a car you are making a contract. In simple terms for a cash sale – you supply a vehicle/the customer gives you cash. But you can help yourself a lot more when you look a bit closer at your sales documentation.
Simple details such as the name and address of the person buying, not the father, if it's the son, not the boyfriend, if it's the girlfriend. Don't skimp on information – get a full name and a full address. You might want to sue these people if they make a quick getaway and short change you. On the other hand they might want to sue you but the wrong person puts their details on the claim form.
Then comes the car. Don't call it a GLSi if it just a GL. Don't call it 1600cc if its 1300cc. If the shoe is on the other foot, make sure the customer accurately describes their part exchange. You can think about suing them if the mileage has been clocked at some stage. Spend some time getting the paperwork right – it will pay dividends.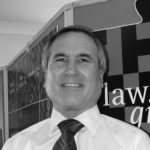 Dennis Chapman
In remembrance of Dennis Chapman 1951 -2015