The Myst Saga – Book 2 – "to the moon and never back"
Earlier this year, we happily shared the news that Lawgistics team member, Lauren Vinn, had become a published author. Lauren was commissioned by Leschenault Press to create a series of books which interwove love, power, and balance with supernatural and magical themes. Lauren entitled her trilogy, "The Myst Saga", and the first book of the series, "he was the sun", came out in June.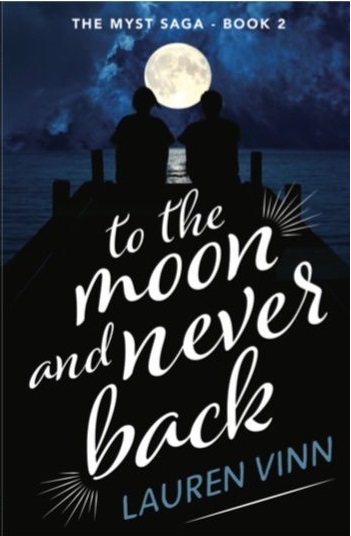 Since June, Lauren has finished sixth form, left Lawgistics employ, and taken up her place at university. Despite a packed schedule, she has completed her next book for the trilogy. We at Lawgistics are incredibly proud to announce that Lauren's second book, "to the moon and never back" has been recently released.

"to the moon and never back" is available on Amazon, Waterstones, the Book Reality website and most e-book platforms.
Synopsis – "to the moon and never back"
"to the moon and never back" is the second book in the Myst Saga trilogy created by Lauren Vinn. "to the moon and back" intertwines supernatural and magical themes focussing on love, power, and being extraordinary.
After centuries of separation, the halves of the pendant are reunited when Brannon and Asher choose to stay together and return the magical power to the Myst. However, no one could have predicted the consequences of releasing a power which had been building for over four hundred years.
While the supernatural afterlife embraces its rejuvenation, Asher's family are adversely affected by the unbound power. It is up to Brannon to find the objects for the creation of a spell which will restore balance between the mortal world and supernatural afterlife. Brannon returns home to locate the required items and soon realises someone is helping her with this important task. But who is her unseen assistant and why are they helping?