We sometimes wonder if we should compile an annual 'Top 10' of the most 'optimistic' complaints we have received for those purchasers who give somewhat interesting reasons and justifications for demanding a refund or cost of repair.
Trouble is ten may not be enough for a whole year, if this month is anything to go by.

April's trio of the more unusual ones are…
In 3rd place – a full refund please for not being supplied a spare key for a second hand car, where a spare was never advertised nor indeed asked about during negotiations.
In 2nd place – my new car is not of satisfactory quality or fit for the purpose because 'it won't start unless I have to press in the clutch before turning the key'.
But in 1st place (drum-roll) – After driving the car for a month I noticed it starting to get a bit smoky at the back with a bit of noise.  I then discovered it had no exhaust.  I think you must have sold me the car without any exhaust!.  
Suffice to say, we didn't exactly agree with any of the views expressed above!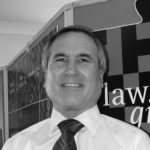 Dennis Chapman
In remembrance of Dennis Chapman 1951 -2015