A Belfast car dealer obtained a car from salvage which was a "Cat D" write off.  He repaired it and sold it without advertising or otherwise declaring this fact before selling it to a customer. 
When the car had a problem the customer took it for repair under manufacturer's warranty but was advised that because it had been classed as a "Cat D" write off it had invalidated the manufacturers' warranty.
He was fined £600, with £40 costs AND had to pay redress to the customer of £2500.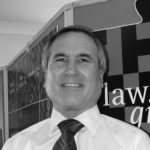 Dennis Chapman
In remembrance of Dennis Chapman 1951 -2015