Under the new Children and Families Act 2014, which was passed by Parliament in March 2014, the expectant father will be able to, from 1 October 2014 be able to claim for time off to attend antenatal appointments.
The rights will not be to the same level as expectant mothers but they will be able to request time off to attend 2 appointments and can only take a maximum of 6.5 hours for each appointment. The leave can also be unpaid, and as such if an employee wants to use their annual leave instead so that they do not lose out on any money, it is up to them.
To qualify for the above, you must be in a 'qualifying relationship', i.e. if they are:
The husband of a pregnant women
Same Sex Civil Partner to a pregnant women
Biological father to the unborn child
Parent to the unborn child
Intended parent(s) to any surrogacy situation (with exceptions)
This will only apply to appointments which have been officially scheduled by a medical practitioner midwife or nurse. Any appointments that have not be scheduled under advisement of the above will not qualify.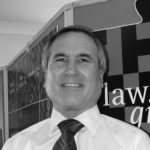 Dennis Chapman
In remembrance of Dennis Chapman 1951 -2015