Having seen the recent news article regarding the controversy a Morrisons' employee caused on Facebook this week, a discussion was had in the office in regards to the merits of both sides case in this dispute.
In essence the employee posted on Facebook details of recent disciplinary action he had been subject to. This included publishing picture copies of letters sent to him regarding the matter, with personnel details in full view.
The employee was being disciplined due to his refusal to remove his 'Help the Heroes' poppy pin and wrist band whilst working on the checkout. The employee's line manager made this request whilst the employee was sat on his checkout, in front of paying customers.
His refusal reportedly led to him being removed from his post and escorted of the premises immediately. However reading the disciplinary letter published by Morrisons it states that the employee 'walked off' continuing in his refusal to remove the badge. The letter goes on to state that he was then taken to the Managers office where he was asked again to remove the badge. The employee refused again despite having now been asked on 4 occasions to remove it. He was then escorted off the premises and suspended pending disciplinary action.
Morrisons argued that the employee had to remove the band and pin as a matter of dress code, and further health and safety. However having posted the content of his disciplinary letter online, the public were outraged stating that they, as the paying customer would not have found the pin and wristband to be a problem.
Morrisons have, since the publishing of the post, retracted the disciplinary action and further amended their uniform policy accordingly. The question is, were Morrisons right to do this, or did they merely succumb to peer pressure? The position is as follows
1.    Uniform Policy

It is the company's discretion to decide what uniform their staff should and should not wear, obviously within the confines of what is reasonable to expect employees to wear.  So a uniform policy is drafted, the employee signs that policy, therefore agreeing to abide by and acknowledging understanding of, that policy. Therefore that policy can be enforced against that employee. However, the question arose, how far can or should a uniform policy go? Employers may think to limit jewellery etc, however, are pins and wristbands covered under this broad category?  It was argued yes, as they can pose the same risks as rings, bracelets or earrings.
If a uniform does not specifically denote any restriction on jewellery, can an employer then enforce anything against the employee? The answer in reality is not, unless a commonsense reasoning can be argued, or, in this case, health and safety which will on the whole override any other policy.
It was agreed that to save disagreement, employers must consider the industry that they are in and look to regulate as much of the employees dress code as possible.
2.    Pins and Wristbands

It is curious why Morrisons felt the need to take such severe action over a charity pin and plastic wristband? The employee worked on the checkout, and not in a high risk area such as the bakery, butcher or deli counter, where fresh produce was being prepared. Therefore we could not initially see the problem with employees wearing these on a checkout. However it was argued that food still has to pass through the checkout area, where a pin could easily fall off, and into produce or even into the customer's carrier bag.  If this occurred and a customer hurt themselves on the pin, this could lead to a huge legal battle for Morrisons.   As there was a universal ban on all bands and pins, regardless of what they represent it does not seem unreasonable for Morrisons to have acted the way they have.
A further issue was raised, that if employees were allowed to wear any kind of pins or wrist bands, it could cause offence to both other members of staff or members of the public. As such, it is advisable that employers look to play safe and have a universal ban of any kind of bands or pins of affiliation.
3. Dealing with Disciplinary Issues correctly
Firstly, why was the employee not spoken to outside of a customer service area? it was not appropriate to approach him whilst he was sat at the checkout in front of a customer. The line manager should have waited for him to finish with that customer and then asked him to come to the Managers office, arranging cover for his station. Employers should never discipline staff in front of other members of staff or members of the public. Matters of this nature should always be conducted in the privacy of an office.
Secondly, if Morrisons felt this was such an issue, what signs were in the staff room, reminding staff of the health and safety implications of wearing any such items and reminding staff that they should be removed before entering the store. It appears that the employee in question worked both in the food preparation areas as well as the checkout and as he should have been more than aware of his obligations under the companies uniform policy.
4. Peer Pressure
Was it right for Morrisons to change their uniform policy, based on the comments posted on Facebook in response to the Employee's status? The public were outraged because the employee was showing support for the armed forces and Morrisons should not suppress such support. Even a former MP voiced their disgust on Facebook and urging people to boycott Morrisons as a result.
Whist we can appreciate that a U turn will remedy some of the bad press, but, as they say "what's done is done". People may already have made their decision, as the action against the employee in question is still continuing, which is what the public disagree with, not necessary the policy itself. It appears to show more weakness than anything else. Companies should not be forced into a corner because of pressure from social media sites.
Facebook…was it the right way to go?

A final point of discussion was the actions the employee, were they the right was to go about a matter like this? The employee published a confidential document on Facebook, disclosing names and details of senior managers and company policies. The letter is even marked PRIVATE AND CONFIDENTIAL. As such, has the employee now, by these further actions committed a further breach of contract?
Morrisons were right to take action on the basis that the employee breached the company dress code, and further refuse management orders on a number of occasions to remedy this breach. He further, walked away from a manger when the matter was being discussed, which cumulatively would amount to insubordination. Regardless of what procedure was or was not followed the fact remains that a disciplinary offence has been committed. The employee therefore had no right to post such information on Facebook, further distorting the opinion of members of the public, enough for them to boycott the company completely. Should Morrisons be able to show a verifiable loss, they may have a course of action against the employee for damages, for breach of contract, and potentially defamation, dependent on the posting that accompanied the pictures.
The employee may therefore have just made the matter worse for themselves, as their further action may be seen as a fundamental breach of mutual trust and confidence. Such actions could be a sackable offence, which Morrisons will obviously need to consider in due course.
Whilst both parties had acted incorrectly here, if a uniform policy is clear then it must be followed otherwise disciplinary action may be taken. Providing the correct procedure is followed. It will be interesting to review the outcome of the disciplinary hearing that is still scheduled to take place.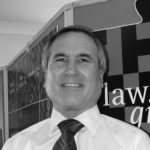 Dennis Chapman
In remembrance of Dennis Chapman 1951 -2015