The works Christmas Party should be a happy event for all concerned and with a little thought and preparation it can be.  At a difficult trading year it is a time, also when you can say thank you for the efforts put in by all employees.  It's that time of year again when employers and employees are balancing having fun and keeping the right side of the law. 
Remember if you as an employer, are putting on a Christmas party whether on your premises or at an outside location then you have responsibilities under employment and health and safety laws.
A lot of problems (and fun) stem from the consumption of alcohol.
Tip 1 – Remember some people want a soft drink rather than alcohol and for some it is a necessity whether to be able to drive safely or for religious reasons.  The answer is to lay on plenty of soft drinks and try to make them interesting.
Tip 2 – If you believe the majority of your employees at an outside party would like to have alcohol then lay on transport.
Tip 3 – It's not bah humbug to restrict 'free' drinks.  Free drinks can lead to excessive alcohol consumption, which in turn can lead to aggression, and at the least embarrassing situations between people who will be working together after the festive season has gone. 
Tip 4 – Remind employees that unauthorised absence from sickness on the morning after is a disciplinary matter but more importantly encourage people to monitor their intake so that they feel able to make work on the morning after.
Tip 5 – It is a good idea to designate certain people in management and supervisory roles to oversee the level of behaviour at parties.  Remember that your involvement in putting on the party can lead to claims for discrimination, harassment, assault which you could be liable for.  Under the Equality Act employers are liable for harassment of employees by third parties so control has to be exercised in harassment by employees and partners.
Other useful tips include:-
Tip 6 – As with alcohol, some religions don't recognise Christmas since it is a Christian holiday.  Make it clear that attendance at a party is entirely voluntary.
Tip 7 – Watch for drugs use.  It is an offence to knowingly permit (or ignore) the use/supply of drugs.
Tip 8 – Whether its putting up decorations or dancing on tables, remember the rules under Health and Safety law about slips, trips and falls.  Equally of course, photocopier glass is not designed to take the weight of a person! 
Tip 9 – In the event of an emergency a suitable number of people should be in a position to take control and guide emergency services to the venue.
AND FINALLY
Tip 10 – Make the party a time of fun.  It's a time when management and staff can enjoy each other's company and get to know each other on an informal basis.  It can also be a good morale booster for what may have been a very difficult year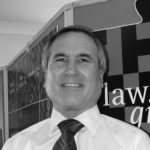 Dennis Chapman
In remembrance of Dennis Chapman 1951 -2015