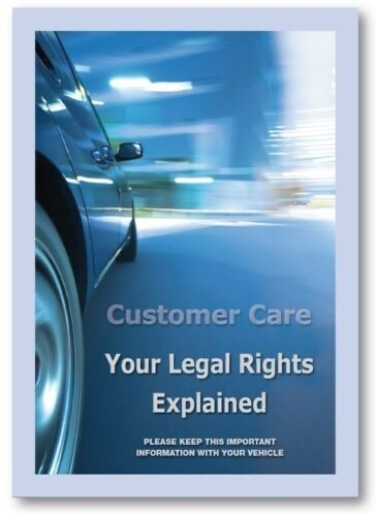 Booklets
Legal Rights Handbook
We have produced a handbook to help your customers understand what they may expect when purchasing a used vehicle. The handbook can be given to your customer at the point of sale, informing them of what they may be legally entitled to and dispelling any unrealistic expectations they may have.
FCA Regulations require regulated firms to 'treat customers fairly'. This booklet can be used as evidence of adherence to that principle. It makes clear your customers Legal Rights and gives them an appropriate claims and complaints policy.
What the handbook covers…
Your Deposit
Buying on Conditional Sale or Hire Purchase
Overview of the Sale of Goods Act
The right to Repair or Replacement
The right to Reduction or Refund
Additional rights when paying by card
Claims and complaints procedure
Where to go for further information
The handbook also includes access to our legal conciliation helpline so we can help you make the right decisions when talking to customers about claims.
Lawgistics have been providing legal solutions to the Motor trade for over a decade and like all our stationery products this handbook has been produced in response to feedback from our members.
Our independent handbook informing your customer of what they can expect 'legally' at the point of sale when purchasing a used vehicle, will help you and your customer resolve any issues should a problem arise. The access to our conciliation helpline which is included with purchase of the handbook, provides support and a clear explanation of current law for you the seller.
'Your Legal Rights Explained' handbook will help your customer understand their legal rights and detail the correct procedure to follow should an issue occur.
£250.00 – £2,500.00
If you have any questions then please call 01480 455500
Get in touch
Complete the form to get in touch or via our details below:
Address
Vinpenta House
High Causeway
Whittlesey
Peterborough
PE7 1AE