Brenda Sofack Zangue, a student at Sir Harry Smith Community College has been honoured with the Rotary Club of Whittlesey's David Combes Innovation Award for her solution of pop-up restaurants within the town.
Brenda's innovation promotes business growth and employment opportunities for Whittlesey. Practically, it solves the rising cost issues of permanent premises, enables up-and-coming chefs to showcase their culinary talents, and allows residents and visitors to experience new and varied dishes.
Brenda's plan includes for nearby businesses to supply locally grown produce to the pop-ups, which reduces the carbon footprint and promotes community inclusivity. It also encourages competition with the established local restaurants who may need to "up their game".
The David Combes Innovation Award was introduced earlier this year by the Rotary Club of Whittlesey in memory of David, who passed away in 2020. David was a member of the Whittlesey Rotary and served several terms as the club's president. David was a visionary who, through his membership with the rotary club, actively encouraged others to be the same. David founded Lawgistics Limited, his finest innovation, which today is the largest and most respected automotive legal consultancy in the UK, providing legal solutions to over 5000 motor trade businesses nationwide.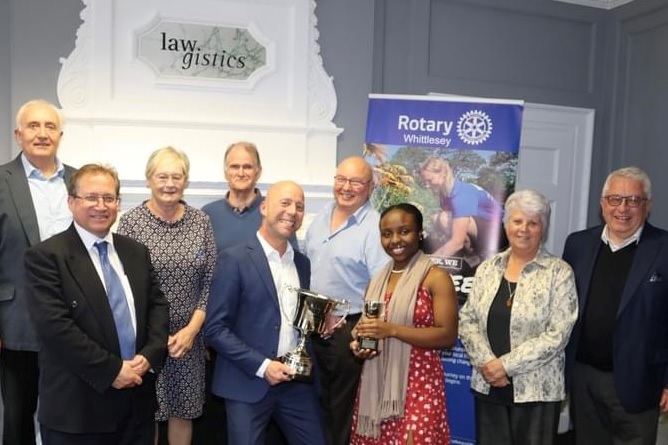 The Rotary Club of Whittlesey proudly sponsors the David Combes Innovation Award to celebrate the future. The club recognises that business growth relies on visionaries, like David and Brenda. And, in today's challenging business climate, the innovators' unique perspective on solving existing problems or finding new ways of doing things that can be practically applied, cost-efficient, promote commercial growth, offer employment opportunities, be environmentally friendly, and sustainable are very much in demand.
The Rotary Club of Whittlesey was delighted with the standard of entries for the inaugural year of the David Combes Innovation Award and looks forward to sponsoring the award in 2024.