The whole team at Lawgistics would like to say a huge thank you to everyone who took the time to vote for us in the Car Dealer Power Awards.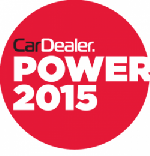 Your votes mean that we have been shortlisted in the best Warranty Provider category, a huge achievement for us and a glowing endorsement of our Driver Options product, an alternative to Insurance warranties.
A special personal thank you from Joel and Ian, who thanks to your votes have the pleasure of attending the Power Awards presentation at the Spinnaker Tower, Portsmouth on the 23rd of April. It's a dirty job but someone's got to do it.
It means a massive amount to us at Lawgistics to receive this recognition in a sector of the industry dominated largely by the same firms who created the warranty market. The mere fact that we have been shortlisted, we see as a victory, regardless who takes the actual award home at the end of the night.