So as the dust settles and the Blues set in after another brilliant Bangers for BEN the Judge would just like to take a moment to reflect on what has been MY MOST RELAXING BANGERS 4BEN.
Myself and my co driver, sorry 'navigator' Joel, had a lovely little French motor dropped on us by the Little Boss, along with a migraine inducing colour scheme, for this years rally.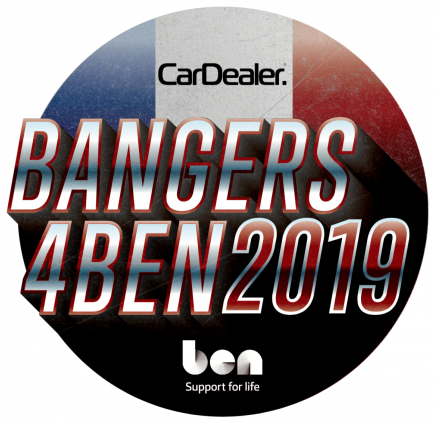 Excitedly we departed full of hope, optimism and laughter although not as in love with this chariot as we have been with past cars.
Into France day 1 all good until…. So the cambelt should've been checked. Who'd have thought it? One little pink French car, dead, kaput, broken. Our convoy mates stopped to ensure our well being (Emerald boys, and the Gallagher brothers) and once the AA arrived and pronounced our little Pug dead at the scene, we jumped onboard the Gallagher tour bus and off we went again.
Now this event could easily have ruined the whole trip but it is a testament to the camaraderie of Bangers 4 BEN and the amazing participants that this, while changing our experience, did not spoil our journey. Far from it, for the first time in five years I could sleep as we moved. From our first back seat journey with Phil and Andy alongside the other half of team iVendi Becky and Vicky, who were in a slightly inferior although altogether more reliable Pug, we did not stop laughing.
The intention was to buy a banger in France and get it back here, but alas, a car could not be found and we resigned ourselves to becoming someone's passengers. Step up the Gallagher brothers Noel and Liam, I mean Neil and Leon from Gallagher Insurance. They volunteered to put up with us (nobody else spoke up thanks Bangers Buddies, don't think it went unnoticed). Slightly more sedately than previous years we drove on.
Myself and the Chef want to thank Leon and Neil for putting up with us for all those miles, but we did laugh. So much so we felt our ribs and jaws ache, at one point I remember driving miss Daisy, I mean Neil declaring as we sped along the autoroute, that he was unable to see due to tears of laughter. This however was an invalid excuse when he saved us from dying with some quick reaction work. Admittedly his driving was what had put us in danger, but no damage done. I will just say this 'Giant Gerbils in Northern France' thems that know.
But seriously thank you guys, you helped make our trip alongside our convoy mates team CarQuay Craig and Jamie in the Mariokart. Their costumes had me in tears, unable to breathe and rolling on the floor. Papers in the post boys.
In fact, as usual it's the cars and the people that make this rally great and why we love it so much. Every year there are moments that you will never forget, a snapshot of a special time. We do this for the charity to raise money but anyone who does Bangers knows it stays with you. I have met truly outstanding people on each rally and the experience is one I look forward to every year. I know there are some of you out there already planning next year. If you haven't done it…. Do it.
Join us. When you roll into a petrol station and there are other cars from the rally, or you hear Jamie Caple freestyling over a P.A whilst driving, or the brightest green car you've ever seen with an ear splitting roar passes you, or you attempt to get your uber eats order from a homeless guy on a bike. You know you're on Bangers 4 BEN and it's brilliant, funny and will stay with you for a very long time.
As ever, huge thanks to Andy and the CarDealer crew. Kelly and all the team at BEN and of course all the boys from the AA. The Judge had a brilliant time, one of my favourites but as Kelly pointed out…every year is one of my favourites. We at Lawgistics (well me and the Chef) love this event and if you have done it, or you do it you'll understand why. It isn't just for that weekend, it stays with you and as I said the years have now become…
Before Bangers, during Bangers, Bangers blues and after Bangers.
That is the Bangers 4 BEN effect.
On another note, if you had considered donating to the cause but never got around to it, there is still time… CLICK HERE to make a donation
See y'all next year.
The Judge and LawJaw

Watch the final episode of our Banger 4 Ben adventure and find out the Little Boss reacted when she learnt the cam belt had snapped – The Issue
You can watch part three on YouTube here – The Reveal
You can watch part two on YouTube here – The Purchase
You can watch part one on YouTube here – The Plan
If any of our #B4B19 videos made you smile or laugh please show your appreciation by making a small donation.
CLICK HERE to make a donation