It all began so lovely. The sun was shining as the Judge and LawJaw (Ian and Joel) set off grinning like lunatics to collect our car for this years Bangers for Ben. This years vehicle would have a tough act to follow as we used my beloved Golf on the rally last year.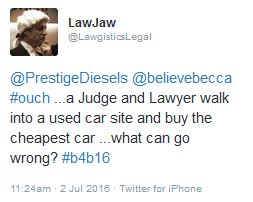 We were sure we'd made the right choice, hence the grins.
The miles flew by and in no time we arrived to find the object of our happiness nestled in between an SLK and a non descript family wagon. It was love at first sight, cool, compact and cheap, it ticked all the boxes. Still grinning we gave it the once over, wheels-four, doors-two, engine-yes. Our grins spread ever wider and as we got the keys to take it for a test drive, our excitement bubbled over into the form of uncontrollable giggling.
The Toyota MR2 has always been a firm favourite of mine so I couldn't believe we were going to do Bangers in one. The bodywork was in great condition, the interior tidy and the engine clean. It started first time albeit in a cloud of smoke. But even while choking on the smoke our grins were still evident.
Onto the local bypass and adhering to the local speed restrictions (of course), we resisted temptation to open the engine right up. A few miles out and then a few miles back to the pitch with everything still intact we were smitten. We knew it was priced at the lower end of the scale, we knew we were going have to spend some money to get us to Italy and back. But we didn't care, warts and all we wanted this car.
Deal done and it was time to head back home with our purchase. With Joel driving it back and me following we set off towards the motorway, still grinning. Arriving at our chosen stop everything was going great, Joel was complimentary about the drive and we congratulated each other on the right decision. Little did we know.
A further 40 miles on the road and on the home stretch, with the MR2 seemingly driving better than at the start of the journey, and while overtaking there was a bang, a big puff of smoke and I found myself swerving to avoid chunks of metal that had broken off from the engine. My position allowed me to see flames in and around the engine of which Joel was oblivious. He managed to get the car onto the slip road and pulled over I stopped about thirty feet behind him and put my hazard lights on.
I waited for Joel to exit the vehicle with some urgency. I waited….and waited as the flames took hold. Seemingly unaware of the danger he was in, I moved my car alongside the MR2 screaming…'the car's on fire!'.
It was at this point the grinning had stopped.
We moved further along the slip road and parked up. I jumped out and phoned for the fire service. Standing side by side we watched the flames grow and the smoke drift across both carriageways. Several motorists stopped to make sure everyone was ok. An RAC patrolman stopped and we asked if he could do a roadside repair, for some reason (perhaps the flames, perhaps the smoke) he didn't think there was anything he could do.
Then came the blue lights of Cambs Fire and Rescue and the carriageway was closed off (I have never been responsible for a road closure before). So professional and so cool they just breezed in and extinguished our car. As quickly as they arrived, they departed, their work done. Leaving us with a twisted mangled charred wreck where our lovely MR2 used to be.
As we stood watching our baby burn, it felt like we had got the best Christmas present ever and broke it five minutes after unwrapping it. The genuine happiness and joy this little car had given us in one day was immense. It wasn't perfect and was probably going cost us more than we spent on the car to get it to Italy and back. But we both loved that car and as we consoled each other the feeling of loss weighed heavy on us. Our build up for bangers had not started well. But we both loved that car and as we consoled each other the feeling of loss weighed heavy on us.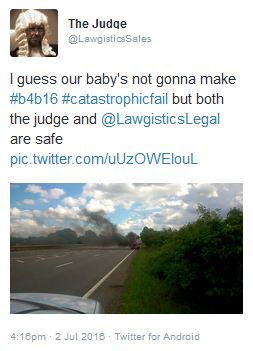 Our build up for bangers had not started well.
So it's back to the drawing board for our Bangers car, if you have or know someone who has an MR2 or similar and would like to help team Lawgistics get to Italy and back in the name of charity please let us know.Reflecting upon what happened later, I wondered whether we would have fallen for this car if it had been electric and if it had been autonomous. I am a firm believer that when you get behind the wheel of a car it should make you feel something, anything. I once had a freelander, I hated it I spent so much money on it I could have bought a brand new one. Hated it but it got me and my family to Finland and back three years on the trot (granted it broke down the third time) but it moved me, made me feel.
Our MR2 had the same effect, it made us feel, but it was affection, love, happiness. It made us smile and even now I'm smiling. We had that car for a matter of hours but we'll have its memory forever.